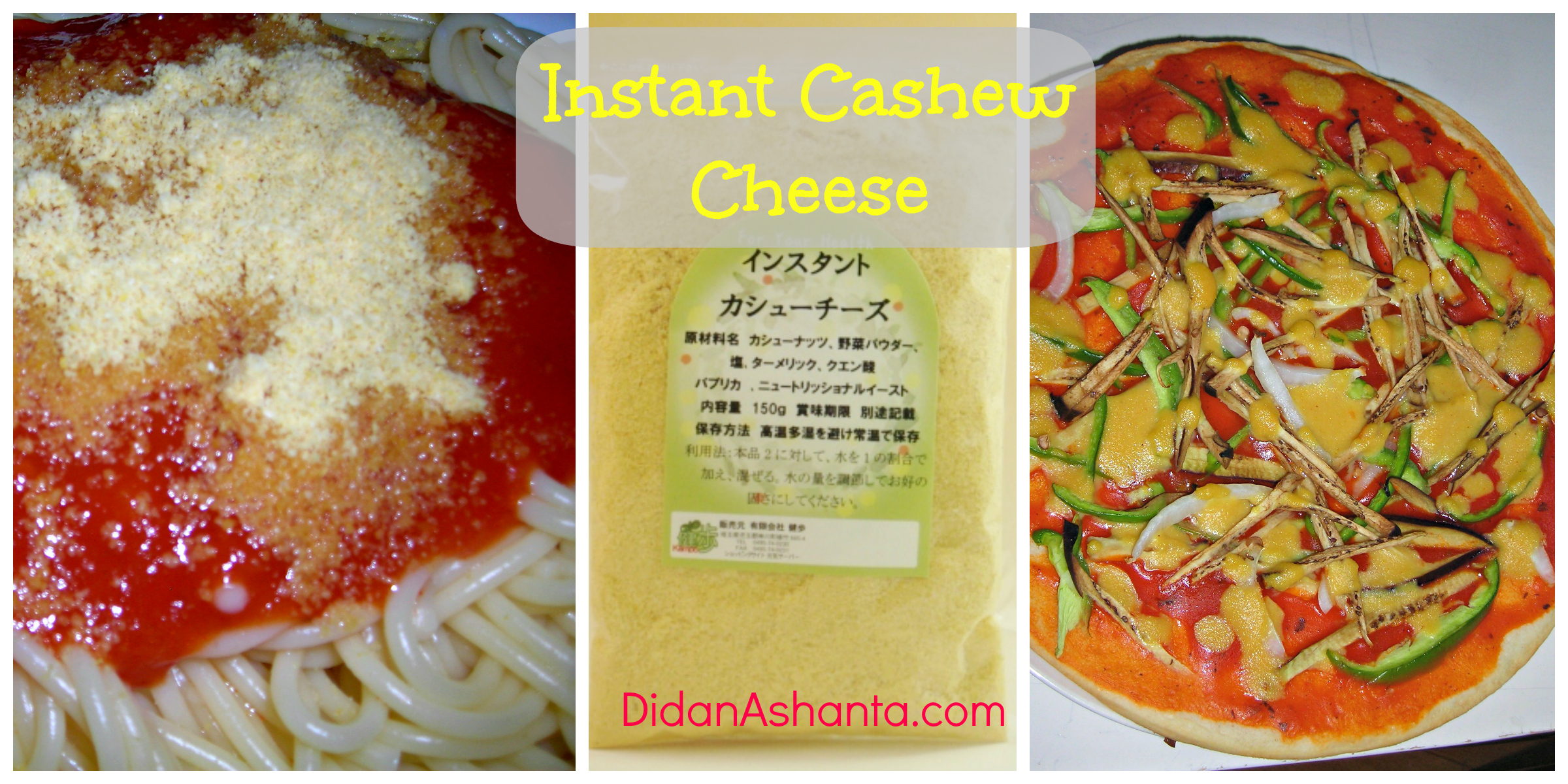 I had sort of gotten used to 'life without cheese', after a couple of decades of being a cheese addict. But, now I think I'm getting back on the cheese junkie train. LOL. But, not the regular dairy cheese – that stuff is still prohibited. My new fave ingredient is an instant cashew cheese that I've found, here in Japan. Kempo – a health food store (they do mail order, and just opened a shop in Tokyo this month) – was passing out samples of the cheese and I decided to try it. I tossed it into a couple of dishes and have been completely won over! Now, I'm seeing a lot of cheesy dishes in the future 😀
I Love This Cheese!
In the past, I've enjoyed my little sister's homemade Classic Cashew Cheese (recipe link) and thoroughly enjoyed it. But, whenever I fork out the cash to buy cashews, I normally don't have the resolve to keep them for making anything. I just munch on them because they're so yummy straight out the bag. Which is part of the reason I really like this instant cashew cheese: just add water and mix until smooth and creamy. (I think the instructions mention using a blender to get it just right, but I've just done it by hand.) If you visit Kempo's online store, you'll find that they sell the Cashew Nut Powder, Nutritional Yeast and different vegetable powders (like onion or garlic). So, I'm sure it's possible to use those ingredients and make your own instant cheese. But, the 150 gram packet for ¥450 is a deal for me.
Some Cheesy Experiments
Sheila (the lovely lady who gave me my first Instant Cashew Cheese sample and took my order when I later decided to buy some more cheese and other stuff from Kempo) gave me the basic instructions for using the cheese powder, plus some recipe ideas. The guideline is 2 parts cheese powder to 1 part water. However, in some cases I've added less water to get a thicker consistency for the cheesy sauce. Some recipe suggestions she gave me were:
Sprinkle the cheese powder on just-boiled and drained pasta for a cheesy 'sauce'.
Sprinkle the cheese powder into potatoes as you are mashing them.
Make the cheesy sauce a little thinner and pour on toast or sliced potatoes, then bake or toast them till the cheese looks toasty.
Toss some boiled potatoes into tomato sauce (canned is fine), then spread them out on a baking dish and smother in cheese sauce, for a potato pizza. (You can add olives or mushrooms, too!)
She also mentioned that you can store the Instant Cashew Cheese powder at room temperature. But, if you plan to keep it for a long time, she recommends refrigeration – to keep rancidity away (now that the weather is hot).
Lentil Casserole
So, I have to admit that I was a bit nervous using the cheese powder, at first. I tried it in my 'famous' Pasta Casserole. I usually use tofu to make a ricotta cheese, but this time, I skipped the tofu. Instead, I tossed the pasta into some white sauce (grateful for that Food & Nutrition lesson in High school – LOL) and used the Cashew Cheese powder to give the 'cheese' taste. In one casserole dish, I just sprinkled the cheese powder between the layers of pasta, lentils and tomato sauce; but in the other casserole dish, I made a cheesy sauce. I think the one with the cheese sauce tasted more flavourful and creamier. I took pics of the whole process, but now I can't remember which device I stored them on – so maybe I'll add them later.
Eggplant Pizza
I love pizza! My parents used to keep frozen pizzas in the deep freezer and on when we ran out, we loved ordering delivery. So, I just happened to have some pizza crusts sitting in the freezer – don't follow me, make your own pizza crust 😉 However, I never had my favourite toppings – only a couple eggplants, some sweet peppers and an onion. I always try to keep tomato sauce in stock, too. So, I tossed all these onto the pizza crust – along with some Instant Cashew Cheesy Sauce and WOW! We ended up eating three pizzas for lunch – it was so good! Did I mention they were personal-sized crusts? *ahem* Now, to tell you how good this cheesy sauce made the pizza: Mr. Amazing is NOT a fan of pizza, but declared that it tasted really good and asked for more. Just so you know: I licked my plate – LOL. If it's only to make pizza, I'll be keeping this Instant Cashew Cheese in my kitchen as a mainstay.
Pasta Parmesan
For a quick dinner the other day, I boiled up some spaghetti and poured on my favourite mushroom pasta sauce then sprinkled the cashew cheese powder on top. WOW! I'm not sure I'll have pasta without it again. It makes everything taste so rich and CREAMY! Yup – I'm sold.
Would you like to try Kempo's Instant Cashew Cheese? Let me hook you up! If you're in Japan, please like my Facebook page, and leave a comment beneath the "Yummy Instant Cashew Cheese" post.