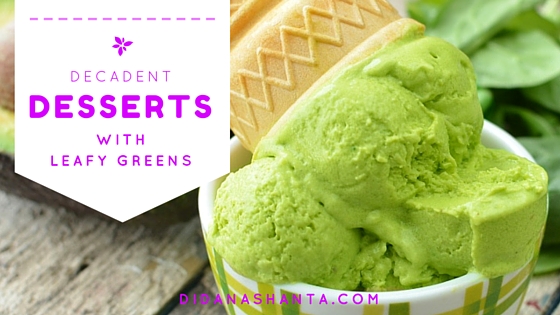 "Greens for what?! Dessert? No!!"
Okay… You get the idea of a green smoothie for breakfast or a veggie stirfry for dinner. But, now you're wondering why anyone would want to put leaves in their dessert?! LOL. Can't a sweet treat just be left to its own guilty devices? Well, if you've never had an authentic green smoothie, I can understand why you struggle with the idea of sweet treats that include dark-green leafy vegetables. But, once you've enjoyed the dreamy, creamy blends – especially with frozen fruit, like mangoes – you could easily begin to rethink 'dessert'. In fact, my book Jamaican Green Smoothies includes more than 8 different dessert recipes for feeding those cravings we often have for something sweet – especially on the weekend.
But, what kinds of dishes can we hide the greens in? You'd be amazed.
From frozen novelties to cakes and cookies. We can pack nutrition behind optimum flavour and decadent textures all the time. The following recipes are just the beginning.
Ice Cream
Everyone's favourite dessert is cold, sweet and creamy. Best on a hot day, but still enjoyed when the days are cold. This might be the perfect way to get your family to 'eat up their greens', and if you avoid refined sweeteners you could serve this up often without the guilt. While a bright green hue works well for many people, in some cases, richly coloured fruit like raspberries may be essential to get other folk to be intrigued by licking leaf-filled ice cream.
Oh! For those of us who want to avoid dairy completely, coconut milk and tofu are great substitutes for the cow's milk and yogurt in many recipes.
Cheese Cake
I've had an assortment of plantbased cheesecakes, including my sister's cashew-based richness and even my personal specialty – which I have dubbed a "Teesecake" since I use tofu to make it. But, things get really potent when we can slip in some kale or callaloo leaves into these addictive bites. Not to mention when you don't need an oven to pull this off! The recipe linked below might become your favourite raw food recipe to show off to your friends and loved ones.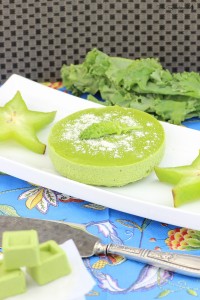 Cookies
A cross between a cake and a cookie, brownies are moist, chewy bars that should not be left in a room with a chocoholic. They have also been used to 'hide' vegetable matter for a long time now 😉 But, today I'm recommending you hide a different set of dark-green leaves in your brownies! Whether spinach or red leaf lettuce, you can add some greens to these sweet treats without worrying about hallucinations or sirens with flashing blue and red lights. LOL.
I can already imagine eating one of these babies, warm and toasty, with a frosty scoop of the Creamy Avocado Ice Cream linked above. *wipes away drool*

Freezer Pops
Another sweet treat that's featured in my book and quite popular with the kiddies, would be freezer pops, ice lollies or icicles (as we call them in Jamaica). You can pour your favourite green smoothie or green ice cream blend into molds and enjoy them once they're frozen. This way, when you or your little ones have a frozen novelty you can feel confident that it's a nourishing treat and that you're not filling up on refined sugar or artificial colours. If the green colour is not so appealing to your little ones, you could always add a fruit with strong pigment, like blueberries, raspberries or deep-purple otaheite apples.
Pie
Both of these recipes are easy! You can go hard and make your own pie crust or use a pre-made shell, but the soul of this pie will be all your doing. The best part? You make it all in your blender! How hard can that be? You can make a whole pie or use a muffin pan and make mini pies to impress your dinner guests or let your children go crazy after dinner is cleared away. If you prefer a less tart, more sweet version just add less lime juice and more of your favourite natural sweetener.
So, what are you waiting for, get into the kitchen! Your sweet tooth is waiting.