The Gift-giving begins today! It's my birthday today and I want to give you a gift! For the next 3 days the eBook version of, "Jamaican Green Smoothies: The Essential Guide to Transforming Your Life, One Cup at a Time, With the Leafy Greens & Fruits in Your Backyard" will be FREE to download from Amazon.com and I want you to grab a copy and tell everyone you know to grab one too!
Maybe it comes with age, but I'm really grateful for all the amazing opportunities, experiences and relationships that I have been blessed with. So, instead of only anticipating gifts and affection, I want to give something, too. (Notice I said, "too". This means I still expect you to flood my inbox, phone and heart with affection and affirmations as you and I celebrate another year of my life 😉
By the way, you don't need a Kindle device to download the book. You can read it on any device! The Kindle App is available for Apple, Android and Windows smart phones and tablets, as well as your personal computer (Mac & Windows). But, my favourite way to access my Kindle Library (which has books for days) is via the Cloud Reader which works from any browser. Just go to http://bit.ly/jgsgift to get a copy. You can share this like with your friends, too!
The 30-Day JGS Challenge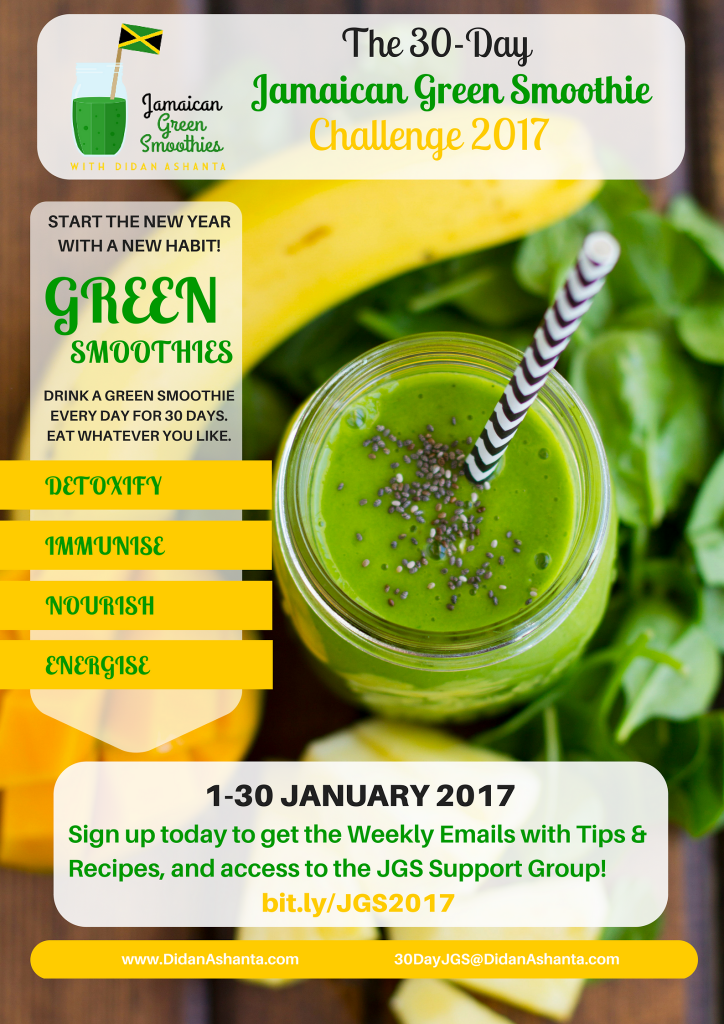 The next thing I want to give to you, is the opportunity to (re)build a blending habit for the new year. The 30-Day Jamaican Green Smoothie Challenge is scheduled for January 2017 and is the perfect way to kick off the new year.
So many years and resolutions have gone by and you're still not as radiant or full of vitality as you'd like. This is why I'm recommending that you choose just one habit to work on for the first 30 days of the year and watch as you wake up your immune system, rev up your metabolism (fat burner) and reprogramme your cravings and tastebuds.
This 30-Day Challenge will NOT require you to eat less or differently than you usually do. All we're doing is ADDING a 16oz serving of blended fruits and leafy greens to all the deliciousness you enjoy everyday. If you've never had a Jamaican Green Smoothie before, the first thing I will tell you is, "If it isn't creamy and delicious, you're not doing it properly." We won't be blending up your Granny's washout nor chugging any lawnmower pulp. So, please come prepared to be hooked!
To join the 30-Day Jamaican Green Smoothie Challenge January 2017, please go to http://bit.ly/JGS2017 to submit your name and email address. We've had participants from various nations across the world, like Jamaica, Japan, USA, Canada, Cayman, Trinidad & Tobago, the UK, France, South Africa, Cameroon, and Australia. So, you can get support wherever you are.
I'm really looking forward to taking this challenge with you. Thank you for accepting my birthday gifts and I'm expecting to hear from you soon 😉