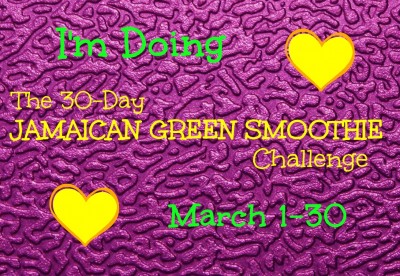 The Jamaican Green Smoothie movement is growing and we seemed to have attracted even more interest and fans since the last challenge. So many persons have been begging for another challenge, while others missed the January train. That's why we couldn't hold out any longer. In less than a week, hundreds of blenders will get busy and greens will become our new best friend. We have spent the first two months of the year building a new, delicious habit and the effects are so dramatic that very few can afford to drop off the wagon. In fact, just a day or two without your daily green smoothie and your body will start complaining. Yes! They're addictive. LOL.
Do you want to…?
Feel Energised
Decrease your food cravings
Have glowing skin and healthier hair
Get rid of your PMS
Enhance your digestion
Get a detox
Get more restful sleep
Boost your immune system
Lose Weight
The next 30-Day Jamaican Green Smoothie Challenge will be starting on 1 March 2014. This is your chance to develop a delicious and healthful habit, while keeping it simple, local and inexpensive.
Yes! I know that I've kept you waiting. LOL. But, since most Jamaicans try to modify their lifestyles during the 40 days of Lent, I believe that the timing is just right – not just for us, but also for our loved ones and associates.
Now, just let me quickly clarify: The 'green' in a green smoothie refers to the inclusion of dark, green leafy vegetables. In the past, we have seen persons blending up non-leaf vegetables (like carrots, string beans or sweet peppers), instead of edible leaves.
The main purpose of the green smoothie is to help us increase our consumption of LEAFY greens. Remember that every vegetable can be classified into one of three groups:
1. Roots, e.g. carrot, potato, beetroot, turnip.
2. Fruits (flower, seed), e.g. cucumber, tomato, sweet pepper, string beans.
3. Leaves, e.g. spinach, cabbage, lettuce, pakchoy
So, this means that when we say 'greens', we're talking about spinach, callaloo, lettuce, kale, celery, moringa, watercress, radish leaves, etc. We always add ripened, sweet fruits to the liquefied greens to ensure it tastes yummy.
You can find a compilation of frequently asked questions about green smoothies: HERE.
My Jamaican Green Smoothie demo video (which includes: a recipe, the JGS blending technique) using a cheap, regular old blender can be viewed: HERE
So, go ahead and sign up: http://eepurl.com/O2KKX