When you choose to eat more whole plant foods, you realise that you need to make, pack and carry most of your meals. But, as soon as your food leaves the kitchen, it begins to cool and then your choices become: eat it cold or zap it in the microwave. But, after you've made the effort to prepare a meal that is made up of plant foods in their natural states, free of chemical preservatives and artificial additives… do you really want to use a microwave? Well, you don't need to stress about it anymore. Taking lunch to work is being revolutionised! A new kind of lunchbag – and personal oven – is allowing us to serve up hot meals from our office desks, cars, work sites, camping grounds and anywhere else we can access electrical outlets.
Goodbye Microwave!
Microwaves are not something I like. Years ago, I came across enough warnings about the health hazards of microwave ovens:
The plastic, foam and paper from the containers we often use in the microwave, melting at microscopic levels, and leaching into the food.
The microwaves (electromagnetic radiation) that leak out while the microwave oven is in use and can damage human cells.
The massive amounts of nutrients lost from foods and beverages heated in microwaves.
The way our food become carcinogenic when heated in microwaves.
Bye-bye So, when my family moved to Japan and began to furnish our new place, we made a conscious decision to not get a microwave. It took some time to adjust but, now it is only natural to cook and reheat food in a skillet on our stove top or in the toaster/convection oven. But, what about when I have to eat away from home? Most offices don't have convection ovens, so if you bring your lunch to work, you either eat cold lunches or use the microwave. Sad to say, I had been heating up many a meal in the office microwave, even thought I refused to have one in my home. Obviously that is going to create some cognitive dissonance: I was really conflicted about the whole thing.
Hello Hot Logic Mini!
Then one day, I got an email about "PlantPure Nation" a 2015 documentary which picks up where the documentary, "Fork Over Knives" left off. As I checked out the store on their website, I realised that they offered frozen prepackaged vegan meals for persons who wanted to transition to a whole, plant-based diet, but didn't know where to start. But, what really impressed me was the portable 'warming oven' that they were encouraging customers to use for reheating their meals, instead of microwaves. An alternative to the microwave? A lunchbag I could take to work? Both solutions in one? I immediately added the Hot Logic Mini to my wishlist and about a week later, I ordered one from a vendor on eBay. Why wait for my birthday?!
So, What Is It?
So, what exactly is the Hot Logic Mini Personal Portable Oven? It is an insulated lunchbag with a heater tray inside. Any rigid container with a flat bottom and a sealed lid can be used in it. It doesn't matter the material (plastic, glass, aluminium or paper) that the container is made from. Once it can withstand heat of 212°F, then you can use it in the Hot Logic Mini. The Personal Portable Oven uses a low, slow conduction heating technology to cook or reheat your food and keep it hot until you're ready to eat. It's max temperature is 212°F and once the food is thoroughly cooked or heated, then it holds it at 180°F until you unplug the device. It cooks fresh dishes made from scratch and reheats frozen or refrigerated meals. It takes about an hour to get cold/ refrigerated leftovers hot and does the job on only 45 watts of electricity. The average microwave cooks on 1,000 watts with the slower, less efficient models running on 700 watts!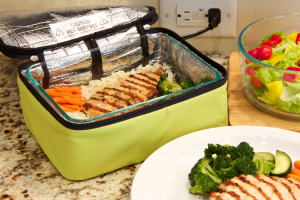 A Big Secret?!
I was literally in awe when I scoped out this portable food warmer. I kept wondering how come I had never heard of it or seen anyone raving about it. Like why?! Where are all the people on special diets or taking weight-loss challenges? Are they all nuking their prepped meals? Well, if people are using these cooking lunchbags and keeping them a secret, I'm not going to join then! I'm spreading the good news and hoping that you will make the Logical choice 😉
In the next post, I'll share with you how I'm using my Logic to enjoy hot lunches at work.
---
Do you have a Hot Logic Mini? Do you think you'll get one?
Tell me what you think.