Stew Peas is a very popular and traditional Jamaican entrée that is made from Red Kidney Beans – known locally as 'red peas'. It is often made with salted chicken, beef, pork or combinations of the three. However, many people enjoy the vegetarian version, sometimes called Ital Stew Peas (recipe link) either for dietary reasons or simply because of the ingredients they may have on hand. Even our favourite local cooking show, Creative Cooking, demonstrated a "Healthy Stewed Peas" (with Tofu):
Clearly there are tasty meat-less options to this Jamaican favourite. However, what does one do when there's the craving for stew, but your kitchen cupboard is out of red kidney beans ? Well, I think 'a bean is a bean' – LOL – so, I grabbed a tin of Butter Beans (also known as Lima Beans) and whipped up my stew! I enjoyed the results so much that I actually reserved a tin of butter beans with hopes of making it again – and yesterday, I did just that. I threw in some veggie chunks (aka TVP) with potato, pumpkin, christophene and okra to make a very hearty dish which reminded me of a Japanese dish my family enjoys, called Hokkaido Cream Stew – just with a Jamaican flavour and no animal products.
Beyond being a good replacement for red kidney beans in a pot of stew peas, butter beans do the body good. According to Registered Dietician, Jill Corleone, writing for LiveStrong.com:
Most Americans choose meat and poultry as their primary source of protein, says the U.S. Department of Agriculture, but varying your sources of protein can help you meet essential vitamin and mineral needs. Butter beans are a healthy choice as an alternate source of protein. A 1-cup serving of butter beans contains about 14 g of protein. By comparison, a 3-oz. serving of meat contains about 21 g of protein. Healthy adult women need 46 g of protein a day, and healthy adult men need 56 g of protein a day. Butter beans contain 1 g of fat per cup, while meat and poultry can have up to 24 g of fat per 3-oz. serving.
She went on to outline that this humble legume is a good source of carbohydrates, fibre and iron. So, by stewing up those butter beans, I protected myself against iron deficiency and constipation, improved my blood sugar levels and lowered my cholesterol levels. Talk about a delicious way of fighting off disease! All too often, we trade our health for a tasty meal. But, we don't have to. Whether it's a bowl of Vegetarian Stew Peas or my pot of Butter Bean Stew, you can have your stew and eat it too! 😀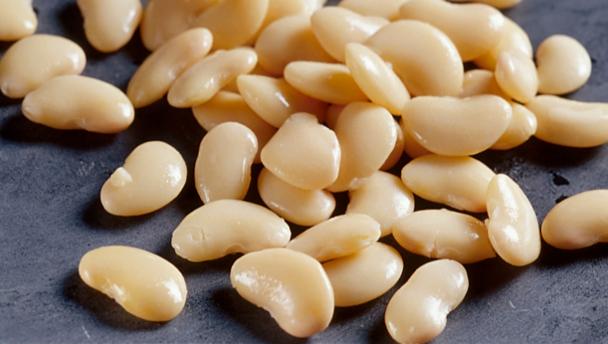 So, please be encouraged to experiment in your kitchen. Get to know your beans and maybe next Meatless  Monday, you can whip up something yummy and health-boosting at home.
I served up my Butter Bean Stew in a bowl of Jasmine Brown Rice and a side of Cucumber slices and Tomato chunks. Please let me know if you've tried any versions of the Meatless Stew Peas or if you've experimented with beans in your kitchen.